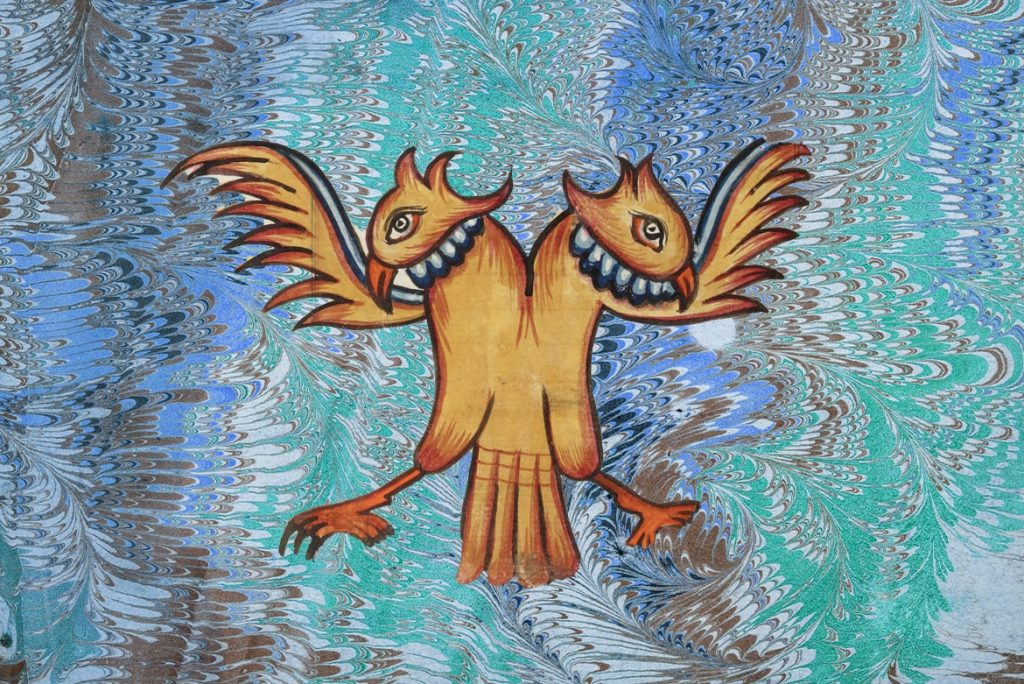 Inspired by our "Memory of Human Kind: Stories from the Ottoman Manuscripts" exhibition, in collaboration with Trendeki Yabancı magazine we are publishing 6 stories by 6 writers. Every Monday a new story is on the blog and on February 1st all 6 of the stories will be published on Trendeki Yabancı.
The second story is "What Befalls Dead Paper" by Berkan Şimşek. This will be followed by Hikmet Hükümenoğlu, Dilşad Çelebi, Fatma Nur Kaptanoğlu and Emirhan Burak Aydın. Enjoy!
Samet had the looks of a wise but portentous saint who would appear in the dream of an old lady to tell her that she'd die the next day, a fact that made him seem ridiculous when he was perplexed – like a miniscule box that could not hold an enormous gift. His eyebrows scaled upwards in a bizarre arch; his respiration took a detour from his nose and arrived at his half-opened mouth; and his hand, because of some baffling habit, kept reaching for his earlobe. Don't people stop when they are perplexed, normally? Instead, Samet disintegrated into a writhing ball of signs and gestures that only ever distracted others.
Samet worked in a printing house, which made him a person of machines and words, and when he was not giving extremely dramatic definitions for his profession, he would perform the miscellaneous printing jobs given to him: ordinary promotional brochures; gratuitously glossy gig posters; novels penned by juvenile writers that had been repeatedly rejected by publishing houses only to be self-published for the benefit and survival of literature; discount coupons for unfamiliar shops; theses, papers and course notes; cardboard cut-outs of celebrities and masks and what have you.
That said, he had entirely valid reasons to be perplexed. One day as he arrived at his small printing house, Samet found that tiny stories had been written on the reams of paper that were going to be used for whatever printing job. Four stories. The same stories millions of times. They were written in type and evidently copied. They were unsigned.
Not to worry, he thought, this is quite possible. Maybe the papers hadn't been blank in the first place and Samet just misremembered. Maybe the supplier had delivered somebody else's order and that somebody, who had been waiting for these stories instead received the blank papers that were supposed to be delivered to Samet. He shared his opinion with his supplier to no avail. "We know what we sent out," they said. "And stories don't grow by themselves, do they? Perhaps you printed something by mistake, eh?"
Samet couldn't really fathom why anything, living or dead, would mix themselves up with fiction; yet if he trusted anything more than his judgment, that would be yes, his own eyes. There were stories written on the papers and they were clearly not printed by him. If he did, printing plates would have to be somewhere. Still, at the cost of doubting his own self, he ransacked the entire printing house, yet he couldn't find any trace that would lead him to those stories.
He then resolved to watch over the papers for a few nights – just to be sure. If stories could appear on papers randomly overnight, they could just as easily disappear. Samet wanted to be there when it was happening. He personally wanted to see the letters vanish and to see the paper restored to its former blank state. He was like a writer completely devoid of any ambition or who lost joy in his profession; normally writers would contaminate blank papers, whereas he was waiting to see polluted papers return to their original state. Somebody with a keener understanding of art than Samet could probably find many intelligent things to say about this.
Still, the papers remained unchanged, with the stories intact. Just as he was about to lose his mind –of course, who is to determine– he saw it. A moth. On the pages. Hmm, he thought. I don't recall this moth asking for my permission to eat these papers.
At this sight, a light bulb went off in Samet's head, which was dirty yellow, and obscured more than what it illuminated.
Of course! The answer was staring him in the face!
This is a blockade, he thought to himself, smiling the proud smile of a person who had solved everything – and yet, so many people are able to solve everything that it was indistinguishable from your run-of-the-mill smirk.
Samet's papers were being besieged by bugs. They were so minuscule that you would only ever be sure of their existence if you were paper yourself.
Just like mosquitoes
that you wouldn't be able to notice if they didn't bite you, or buzzed in your ears.
Just like that eerie, uncanny skeleton
we are seldom reminded of that lives underneath everybody's skin.
They were minding their own business. Just fulfilling their task, whatever it was. They were situated between paper atoms and were smacking the paintbrushes in their hands on the texture of the paper to their hearts' content. These thwacks would result in letters to appear from the unknown. And these letters, in turn, were joining together to become chunks of text. They were writing the stories. These bugs would clock in while everybody was still asleep. They worked like they were the sole owners of their waking hours. They multiplied, and as they multiplied they wrote more.
At the end of the third night of his vigil with the papers, Samet began to bind together all the papers with the stories in small booklets, incomplete conviction. I wrote these, he said as if he were addressing an invisible readership. Thank you, thank you, I hope you enjoy them, too.
1st Story Written by Samet's Bugs: The Kabikaj Defence
I thought it came from the trees; perhaps someone climbed to the treetop and is pulling my leg, or is imprisoned in a tree and is calling me from within. The voice sounded so gentlemanlike, though. He had a threadbare beige trenchcoat and leaned on a black cane as he walked. He looked about wearily, but his movements were quick, his gait steady. He greeted me in earnest, as if he took me seriously, which rather pleased me. He asked my age, he asked my profession, he wanted to know what I was doing in the middle of nowhere. I am seventeen, I am a carpenter, and I am running away, I said. He understood that my answers were for the sake of answering his questions but he didn't seem to mind. He merely nodded, as if that were satisfactory. He said that, perish the thought, he was a djinn. He was actually haunting papers; he would eat them, break them into pieces, rot them, if he was in a good mood he would render them unremembered and invisible, he would have them borrowed and unreturned. One day he was bored of it all. Papers became all too predictable, there was no longer any surprise in it. So he resolved to ruin the life of a tree that had not yet become paper. And so he had been inside this tree for the last ten or fifteen years.
I failed to see his point at first but it wasn't like the djinn had any interest in masking his true intention. Before I could reply, he asked me if I had a cigarette.
"I do, but I won't give you one," I said.
"Come now, you're being mean," he said, upset.
"Tell me then, how do I protect paper from the likes of you?" I chanced to say. I could get some information from him, sell it to an interested party and make some money of my own. "For example, does it work if I begin a book with o kabikaj?"
He laughed.
"That is not helpful," he said, not hiding his derisiveness. "If I were you, I would erect an entire tent over the world that reads o kabikaj. There's no point, otherwise."
For some reason, I was reminded that he could do me harm to obtain the cigarette, and so I tossed the entire pack at him. He emptied it on the ground and began to feast on the paper.
"Trees," he said, as if to explain himself, "are never as tasty as paper – I don't know what they put in them!"
2nd Story Written by Samet's Bugs: Unforgettable Corpses
 I am not proud of my small discovery any longer. At first, I believed that dead mothers could once more tell stories to their children; that dead children could reiterate their first words; that people can hear their loved ones' words once more. I had in mind some people who could repeat their important speeches ad infinitum.
What I discovered was this: I would take dead bodies and fill their heads with texts that did not exceed three to five pages. They weren't brought back to life, certainly not, yet these words etched into their minds they could repeat as if they were alive. They didn't decay, they didn't have to be interred; they didn't think but they also didn't stop talking. They said the only one thing they knew over and over and over again. It was all too beautiful.
But one day you would wake up and sense that the world was deprived of something – even if you didn't see dead people walking around muttering as if in prayer, you would still notice.
Nobody wanted to remember anything. They took notes in the limited memory of the dead, and when theirs were full, they found new ones, and just so they wouldn't have to memorize what they were obligated to memorize, they started killing one another. Indeed, in the end, there were more dead people walking around like small post-it notes than any living ones.
I'm sure you thought that armageddon would be more glamorous, but let me tell you what really happened: everyone alive was suffocated under the weight of dead people muttering anonymous fairy tales of yore, underlined passages from who knows what book, grocery lists, application deadlines or somebody's phone number.
Maybe little note papers would have sufficed to remember things.
3rd Story Written by Samet's Bugs: Papervomiter
When they noticed there was something wrong about him it was already too late. "If it was blindness or, I don't know, hearing difficulties, we would have known immediately, but this, how could we have guessed?" his mother explained. When it came up he noticed that his mother's voice grew soft as if to absolve herself from any wrongdoing but it only ever made him angrier.
He knew that some people had an inexplicable fear of paper; like those who were uncomfortable touching it – it felt like touching the little hair on a peach. This velvety sensation might have been enjoyable to some but for others, it was akin to feeling the skin of some uncanny creature. Others were afraid of scrawlings and signs on the paper; they were afraid that the writing would cascade down the paper the moment they touched it, that they would cover their arms and consume them. Another sort was more realistic in their hesitation and they believed that in a moment of carelessness they would cut themselves – for paper cuts caused tremendous pain. His problem, however, had nothing to do with all of this. He didn't feel panic. He wasn't afraid. But when he touched paper his body fell over as if paralyzed. He lost consciousness. He couldn't breathe. He trembled.
Some doctors thought it was a game. In his infancy, he had a paroxysm of some sort, perhaps, and when he grew a little older he continued the charade for attention. They would toss the paper on him when it was not expected, they would leave scraps of paper between other things; they hoped this would end the farce, but nothing changed. When he touched the paper he'd become a . –then would be erased –then– then he would feel that he never existed in the first place.
Others thought it might be a psychological disorder. A therapist his family was coerced into seeing placed a stack of papers in front of the boy and asked to address them about his feelings. "I hate you all, because you make my life difficult," he said merely. The papers didn't respond. "Go on, go ahead," the therapist encouraged. "I don't feel anything against you. Does anyone with lactose intolerance have any strong feelings against dairy?" After a few sessions, the therapist had told the family that the paper disorder was quite likely to have a biological cause. "Even if it were psychological, it won't get better. He has internalized his condition!" He was a perceptive boy; he was upset to see how sheepish his therapist and his family acted around him, but he didn't find them odd. The only thing he didn't really understand was how this infirmity, which made his life only slightly more difficult, had become such a nuisance.
As expected, his daily routine had more items than the average person. Gloves, for instance – he didn't like them in the slightest, but if he were to leave them at home, he couldn't buy anything from the shops or get a number from the ticket dispenser. He would check and recheck his new clothing so that he wouldn't collapse into a paroxysm because of some senseless, tactless tag. It wasn't unmanageable by any means but the need for an intermediary to even wipe his bottom, to even contact toilet paper, made him feel inadequate and useless.
"It could be worse," they said still. "What if you couldn't touch plastic?"
"The loss of a faculty," others said, "there are blind people. Some people can't hear anything. You just can't touch things, that's all. And it's only paper!"
All right, he would think to himself, I know I will have to live with being compared to others.
These conversations would prove to be significant, when one night, just as he grabbed the toothbrush before he went to bed his throat closed up, and gasping for breath, collapsed – if the toothbrush hadn't fallen from his hand as he fell, he would have probably died, too. At first, he believed the toothbrush had paper in it, trace amounts of paper. The moment he had regained consciousness, he put on his leather gloves to study the toothbrush, but he couldn't find anything.
After a troubled sleep, he woke up the next day, changed his clothes, washed up, and taking a deep breath, mustered the courage to touch the plastic socket on the wall. Same reaction. The moment he touched it he convulsed and collapsed; this time a little blood in his nose accompanied the shortness of breath. I hope they are all very happy now, he said, when he came to. He addressed all humanity, like an idealist leader. Now I can't touch plastic, either.
He adapted to this new condition relatively easily, as he had already spent his life avoiding some things. Not being able to touch plastic only meant that a few new items would be added to the list. As long as he had the gloves on, he didn't even have to feel "inadequate" – like a nearsighted person who forgets his blindness when he puts lenses on.
But if fortune is after you, no amount of positive thinking can bring it to a stop. It could all be done quite quickly, indeed, your entire world would come down in a matter of seconds – before you even had a chance to think "Wait a second, what's going on?" So when one night he got up and reached for his gloves and found himself on the floor, he was frightened, but not surprised. His nose was bloody again. For the first time ever, he was feeling listless. Like he was put inside a paper coffin.
"It's progressing rapidly and I don't know what to do," he said to the doctor in despair. He was pulling at his cotton gloves. Before he left home he was about to pick up the plastic gloves in the bathroom when he realized his mistake and put on the cotton gloves he had stuffed inside a drawer. "First there was plastic, then plastic, and now leather. Is this how it will be from now on? Will I keep getting new allergies or what?"
The doctor was indifferent more than anything else. He was listening to him with a somber expression, but he didn't react in the slightest.
"All the analyses and allergy tests have been made. If you want, you can check into a private hospital, where they can keep you under observation, but if you ask me, this is purely psychological."
He was about to lose it. It'd be a lot better if they would just say that there were no answers, rather than hear the same old answers that proved ineffective.
"I did all of that. All of it! And besides, if I wanted to see a therapist now I can't even lie down on the leather couch!" he lamented. The doctor just shrugged – "I don't take you seriously", he seemed to say.
When he realized that he wouldn't get any answers, he stood up; and howling at the doctor, "I hope you become allergic to air!", he slammed the door and left.
When the next day his feet touched the hardwood floor he realized that his head was swimming and he was about to lose consciousness; so he desperately threw himself on the marble floor. He was writhing where he fell, but at least he saw the oncoming disaster and intervened. So it's wood now – all right, he said to himself coldly. Before he could even get over this, he began to sneeze and cough – why, why! He pulled apart all that he was wearing – all the fabric. Skipping on the carpet, he threw himself on the kitchen floor in a state of complete undress. He was breathless. He wanted to get a glass of water, but fearing that his body might react to the glass, he stayed where he was. How long did it take to develop a fabric allergy after the wood – a few minutes? His chest was about to burst but he couldn't compose himself. He gazed at his feet. They touched the kitchen marble. A few minutes more. Maybe. He waited.
4th Story Written by Samet's Bugs: Things Codes Pine For
I swear, I didn't even know that I wanted it before somebody had told me where the paper came from! Evidently, after nightfall, papers mount and rub against one another, a bizarre mating ritual –a veritable miracle of nature– and behold, a new page would appear between the two papers. These pages themselves would later reproduce – pages that touch one another, feel one another; pages that would never have to be lonely.
Sometimes I hear my friends talk amongst themselves; two-page booklets could reproduce into entire volumes in a matter of days.
I only feel lonely at times like that. Us codes only have lines, you see? We don't have mates. We don't reproduce – we are produced. We are solitary.
I don't want to succumb to an existential crisis or anything, but when I think of all this, a single image comes before my eyes. Just like their unmated single-page manuscript counterparts, codes will one day be exhibited in museums dedicated to them, inside their own little glass cages.
I'm waiting for that day.
Writer: Berkan Şimşek
Translator: Emrah Serdan
About Berkan Şimşek
Berkan Şimşek was born in Istanbul in 1991. During his undergraduate years in history at Boğaziçi University, he founded Kırtıpil, a journal that published experimental fiction, with a number of his friends. He was afterward a founding director of Metin Deneyleri Alanı (Textual Experimentation Space), which aimed to expand the concept of games within fiction. His debut novel, Leopold'un Sabunu was published in 2017 and received the Dünya Kitap Grant for Mystery Fiction. His second novel, Şaklaban, was written as an audiobook and was published by Storytel in 2019. He works as a copyright specialist.