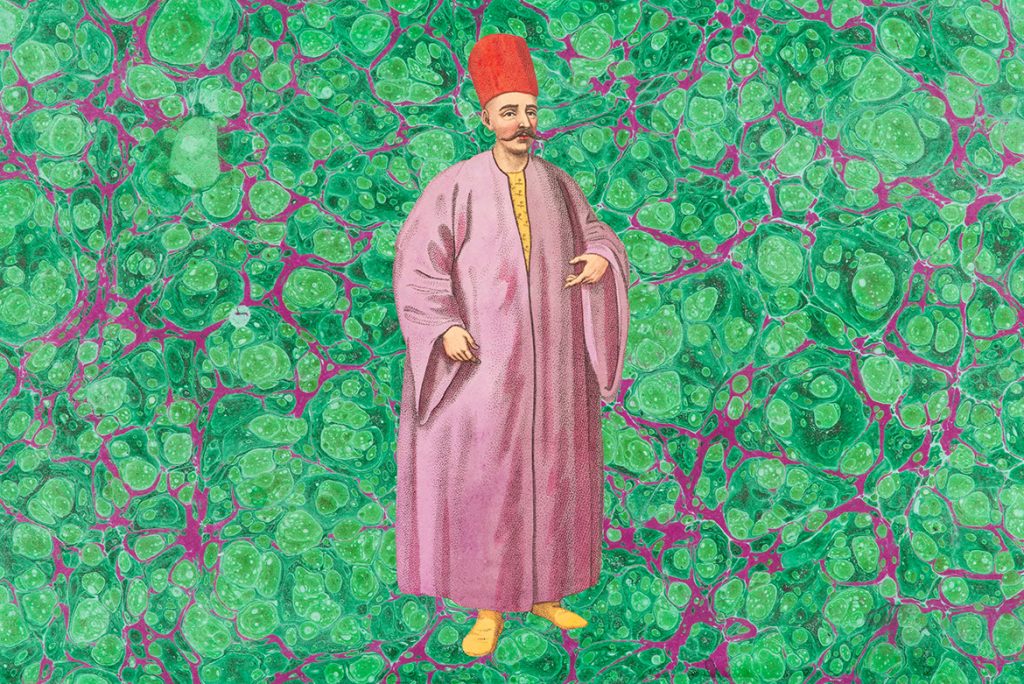 Inspired by our "Memory of Human Kind: Stories from the Ottoman Manuscripts" exhibition, in collaboration with Trendeki Yabancı magazine we are publishing 6 stories by 6 writers. Every Monday a new story is on the blog and on February 1st all 6 of the stories will be published on Trendeki Yabancı.
The third story is "Milksop" by Hikmet Hükümenoğlu. This will be followed by Dilşad Çelebi, Fatma Nur Kaptanoğlu and Emirhan Burak Aydın. Enjoy!
—
He knew that I hated flying. That I couldn't recover from its anxiety for several days, that my bowels would act up, my sleep cycle would be disrupted. He might have known all of that, and he still did it on purpose. Why, it was just two days, I could arrive Friday morning and depart Sunday evening. Besides, while I was there I could visit my family, would that be so bad. "One would think I was punishing you," he said. He did mete out the worst punishment unknowingly, a punishment that was worse than the fear of flying.
It's the 21st century, there's something called the internet, must one really see an exhibition in person? I could say, but didn't, because Simon, that –never mind, I'll watch my tongue– you know, my boss, if he's ever cross with you, he'd ruin your life. I had irritated him already, so there was no point in provoking him further. If you ask me Simon was in the wrong profession. If he was some cokehead stockbroker in the eighties, for instance, he would have found his rightful place in the universe and hit the big time. In this screenwriting business, though, he had the ambition and knew the right people, but he had no talent whatsoever. His latest series was canceled mid-season. After the three-week crack-up, we began preparations to present a new project, but we weren't making strides by any means.
All right, but wasn't the age of Da Vinci Code knock-offs over already? Who would be interested in Ottoman manuscripts in this day and age, I said (to myself, of course) but evidently there were. He wouldn't have bought me, a second-rate screenwriter assistant, a plane ticket and sent me off to Istanbul otherwise. Not even as punishment.
I dropped my luggage in the one-star hotel I was staying in the grimiest street of Beyoğlu. I wasn't expecting a room at Pera Palace, but I wasn't prepared for such a squalor. I thought about peeking in the bathroom to see if it was clean, but I didn't have the courage. I postponed that particular adventure to my return in the evening. If I asked the man in the reception who looked like he had walked out of a mafia series, "Do you have a safe in there where I can store my valuables?", I'm sure my dead body would have washed ashore at Haliç by sundown. So I placed my passport and the cash I carried for emergencies inside a double-zipper purse I had under my shirt, and went out.
My phone remained switched off since my arrival at the airport, as my mother could have sensed my presence and called me. She has a strong sixth sense, and she definitely detected my smell. I knew what would befall me if by some accident I answered the call. Where was I? Was I dressed for the weather? Why didn't I let her know in advance? What did staying in a hotel mean? What kind of hotel was it, was it safe? Did I have a large enough room? Then she would whinge about how I wasn't being paid well, how she was barely getting by with the money I was sending her, her knees, her eyes, how she wasn't able to leave the house and the programmes on TV. I'm as lonely as you are, mother, but I don't complain nearly as much, I wouldn't say. There was no reason to.
I kept my phone switched off, but I felt ill at ease if I didn't switch it on and checked for any messages. Not from mother, you see, I was waiting for a message from the woman I loved. I don't want to besmirch her name, so I shall only use her initial. The only person whose inhalations and exhalations kept me alive. It's possible that I might have been exaggerating – but no, I have never felt these feelings in life ever before. Since the day we met I fell asleep thinking about her, and she was the first thing to come to my mind in the morning.
I turned the airplane mode off on my phone. There were no messages from M.
* * *
During a parent-teacher conference in elementary school, mother asked my teacher, "Our son is such a milkson, he's afraid of everything, what can we do?" "Let's not call him a milksop. He does have an anxious nature," my teacher tried to correct her, but she didn't know that mother was always right. According to her the teacher was an idiot and I was a milksop. If you ask her, that's what I still am. Personally I'm still on the teacher's side – her name is on the tip of my tongue. I can't deny that I have an anxious nature.
Naturally I wasn't afraid of everything, but to be fair, being in this city did make me tense. My stomach was doing somersaults merely at the thought of being 3,000 km from my home and only three stops away from the house I was born in. To avoid the Arab tourists who were visiting to get hair implants and boys high on paint thinner, I kept changing pavements. I ran away from Greenpeace volunteers. I was building up a sweat because of all the running. I came here with my heaviest coat like an idiot. London was freezing but winter hadn't made it to Istanbul yet, apparently.
I wasn't afraid of everything but I didn't enjoy getting into arguments with people. Imagining their reaction, if I were to say what really was on my mind, made me nervous. Not your garden variety of anxiety, but the sort that made knots in your stomach. Let's just say it was giving me a panic attack. What if they don't like it, what if they misunderstand and take offence? What if they think I'm an idiot? What if they get angry and pick a fight with me? What if I get into trouble, what then?
The girl at the museum reception said the exhibition was in another building, which was alarming. "Is it far? Could I make it?" I asked. She didn't understand. When I asked in Turkish, she looked at me funny, sort of questioning why I didn't ask her in Turkish in the first place. I wanted to say, because mother doesn't like it when I speak Turkish with an English accent, but I changed my mind. As if I willingly would lose my accent. You can't help it, when you have nobody to talk to.
"It's quite close," she said. "Forty minutes, so you have plenty of time."
"I'll just browse around for a bit today, and examine all the works tomorrow."
She didn't understand why I gave such a lengthy explanation. "However you like," she said, and smiled.
I turned the airplane mode off and checked for messages. Still nothing from M.
* * *
If our last meeting was anything to go by, Simon was fantasizing about a screenplay like this: A thief in a clown mask is cutting the glass with a state-of-the-art technology laser. He reaches through the hole and removes the antique manuscript with the delicacy of a goldsmith. He hands it to the black-haired lady with a black leather jacket. As they step outside, the lady removes the wig, revealing her hair was actually blonde. She puts on her helmet and speeds away on her bike. Panoramic views of Istanbul. Topkapi. Hagia Sophia. A manuscript that hides the most ancient secrets and ciphers of the universe. So on and so forth. At the end of the first episode, a long chase through the domes on the roof of the Grand Bazaar. Our hero, who's chasing the lady, is a detective who will nab the antique smugglers; a history professor in a dark grey suit, a very slim tie and black shades. Naturally, he sleeps a lot with the lady throughout the episode, because he doesn't know who she is until the very end!
How do you say "Ya sabır" in English? "Lord, give me strength"?
The minute I walked in, I pulled out my notebook and began to draw a plan of the exhibition space. Entrances, exits. Security personnel and cameras… I marked them all. Since we couldn't recreate the exhibition, it occurred to me that we could at least make the works similar. I began to take photographs. Some tools that resembled fruit knives caught my eye. I thought these sharp objects could be the perfect murder weapon. I realised their true purpose after I read the label: Pencil sharpeners, Istanbul, 19th century. Coral, ivory, aventurine, gold, steel.
"Can't we just get rid of this lame James Bond character?" I asked Simon at the end of our meeting. I don't know how it happened and why I couldn't keep my mouth shut.
He raised his glance from his papers and looked at me. "And what kind of a hero would you prefer, darling?" Simon called all his employees "darling", regardless of their gender or age.
I was sorry to have mentioned it but I couldn't take it back now. "It could be a little more realistic," I said. "A man that is true to life. A policeman who searches for truth not in tailored suits but in an affordable coat and affordable black shoes. Not someone who is especially tall or muscular, but, I don't know, someone who isn't easily noticeable."
"So, someone like you?"
His expression hadn't faltered but I was certain that he was ridiculing me. I had to smile politely and stay quiet. "Not necessarily," I said. "But he doesn't have to seduce every woman he sees on the street."
"A guy that looks like you, he won't seduce anybody," he said. "That's for sure."
"Yeah, maybe… Still, James Bonds are obsolete now. According to a survey from last year, 78% of young audiences prefer Scandinavian television series, because–"
"I'll tell you what. How about you stop worrying about these things? Just do what you're asked, gather the details asked of you, and that's all. Don't get involved with anything else. I'll take care of the major parts. And if I am interested in your opinion, I'll ask you."
* * *
Hafıza-i Beşer, translated into English as The Memory of Humanity.
That's what should be written on the cover of the stolen codex. Of course, in Latin script, so that other Simonoids can understand. And in English, too. To top it off, our professor-detective should explain everything clearly so that it doesn't go over anybody's head.
I had to end it, the manuscript was more impressive than I thought. In fact, I wished that I could just dispel Simon and everybody from my mind, stay there for hours and examine each of the works. But work comes first. I jot down all the information in the labels on my notebook. They used to call the margins of a page cetvel. And the artists responsible for drawing them were named cetvelkeş. A job meant for me, I thought. I'll draw the lines, and someone could fill in the page.
I turned off airplane mode one more time. Still no messages from M. And this was Simon's fault completely.
* * *
I'd met M for three afternoons; twice at the coffee shop below our office, third time at a cheap Indian restaurant. I wanted to see her more often, but she said, "Can we take it slow?" She was confused. Or rather, she had just started to see somebody else and she couldn't decide. I asked her what he was like, and she found it strange that I would ask such a question. "Oh, you know, strong and manly… You know the type," she said, and changed the subject. I was certain that he was the James Bond type.
For the first time ever, we were supposed to meet not for lunch, but dinner tonight. When I finally wore her down and she accepted, I was about to lose my mind. I booked a table at a fancy Italian restaurant. An early dinner, then Fellini's La Dolce Vita. I asked, she didn't watch it. I was sure she would like it.
Then suddenly this affair came up and I was forced to cancel our date. She didn't respond to any of my messages.
Divan. Zübeyde Hanım (d. 1780). Zübeyde Hanım was one of the most popular female poets of her time. To reproduce her poems, her admirers would transcribe her poems by hand. That was the custom in the 1700s, and that's how books used to circulate. I switched my phone on and browsed the internet for any information about Zübeyde Hanım.
M had a leather-bound bulky notebook. I saw her with it the first time we'd met. It was about to burst with all the postcards, dried leaves, old ticket stubs and clippings from magazines. It was being held together with a rubber band. "So it won't explode," she said, smiling. She wrote her poetry in that notebook.
"Nobody read them like you did," she said on her second meeting. "To be honest, nobody wanted to. You're the only one who enjoys them." She meant the other bloke.
I was the only one who teared up when she thought of M.
* * *
There was nobody around, but I still ran to the loo so that I wouldn't be seen crying. And when I couldn't find the gent's, I went in the door with a wheelchair sign on it. As I washed my face, I started to get anxious. What if someone on a wheelchair turned up and had to use the loo urgently? It was a disgraceful thing to do. I was going to be humiliated. My stomach started doing somersaults again, and my bowels started to emit rumbling sounds. I was annoyed at myself then. "You idiot," I spoke to the mirror, "it's only two minutes to closing, there's nobody at the exhibition…"
When my mother was annoyed with me, or she "understood that she couldn't tolerate my whinging any longer," to use her words, she would lock me inside the second bathroom at the house. A squat latrine no one used and a faucet on the wall. It was as big as a chicken coop, and when one closed the door, there wasn't any space to move around. One couldn't even pull down their pants and squat. In the dark, I would tremble with fear at the thought of a hairy arm emerging from the latrine hole, grabbing my hair and pulling me down. I would cry at the barbershop to have my hair cut short, but my mother always refused. She wanted a daughter and she got me instead.
The museum's disabled toilet was as big as the sitting room at my house. I leaned against the wall and waited for my sobs to subside. I don't know how many minutes had passed.
The door suddenly opened. I was an idiot, so I'd forgotten to lock the door. I was pressed between the door and the wall. I was caught – that was my thought; I didn't know what crime I had committed and why I'd be caught, but I knew I'd be humiliated. The security guard looked inside casually. I could see him in the mirror, but he didn't see me. If he turned around only a little, our eyes would have met. He thought the room was empty, and the door closed. The lights went out.
I waited until I could be sure that he had left, maybe ten minutes, maybe a little more. Quietly I opened the door. The exhibition space, which a moment ago had been illuminated with downlights, was now dark. Without the light of the emergency exit signs, it would have been pitch black. Not a sound to be heard. I could be a milksop but I'm not stupid. I understood what had happened to me instantly. The exhibition was closed and I was trapped in it.
If I tried to escape the building, how would I be able to explain this bizarre situation? How could I convince the security that I wasn't a thief, really? I had the building plan, camera locations and ideas for a heist in my notebook. Who would believe that I was innocent? How could I explain it? I'd be humiliated before I could. Everyone would make fun of me. They'd say, why do you talk like that.
It might not sound quite logical in retrospect, but there, in the dark, as my pulse went up to 150, I devised a quick plan. I could wait in the loo until morning. When a group of people arrived in the morning to see the exhibition (which I would be able to make out from the noise) I'd slip out silently and join them like nothing had happened. Like a guest who had just arrived.
* * *
All this was Simon's fault. Well, I said to myself, at least it's not as grimy as my hotel room. More comfortable. It serves you right, Simon. I hadn't eaten anything since the flight and I was starving. Since our date was called off, M would soon meet the James Bond-type bloke. Without a doubt. They'd have a nice dinner, just the two of them. I didn't want to think about it any longer. I wanted to distract myself with something until I'd fall asleep.
So I took out my notebook and started to write.
I wrote until morning. At first, I wasn't sure what I was writing, but then I realised that it was a letter. I began with my childhood. How my father had left us, mother, our house, my school. I even talked about the squat latrine. How I escaped to London, the weeks I worked at the supermarket, the months, the language lessons, the rooms I had to share, the stench of frying oil. How I managed to find a university to accept me, and how I started a job with Simon as soon as I graduated. How meeting M had changed me, how I stood up to Simon for the first time in my life. How I said everything on my mind to his face. And finally, how I was trapped inside the disabled toilet of an exhibition space. I talked about it all at length.
Then I told her about what I'd learned about Zübeyde Hanım. How beautiful her manuscript looked. About how a hand had written those lines hundreds of years ago, how the book had then circulated, and how her admirers had reproduced the book with great effort. How Zübeyde Hanım's father had been a poet himself, yet married his daughter to a man who didn't understand poetry, and didn't even enjoy reading it. I told her about how a woman as dignified and elegant as Zübeyde Hanım had been unhappy with that man. How she had used her wit and repartée to hide her unhappiness. How her witticisms were as famous as her poems and how it passed down by word of mouth…
I wrote it all down on the notebook and then typed it on my phone. I was afraid that my phone would die, but it thankfully lasted until I passed out in the small hours of the morning.
Before I shut my eyes, I worked out the time difference. M would be awake as I left this place. She'd check her emails as she was waiting for her bus. She'd read what I'd written on the way to the office. And who knows what she'd think when she did. Normally I would be anxious, but I had a good feeling about it this time. James Bonds were obsolete, after all.
Writer: Hikmet Hükümenoğlu
Translator: Emrah Serdan
About Hikmet Hükümenoğlu
He was born in Istanbul in 1971. After graduating Robert College in 1989, he completed a degree in Physics at Boğaziçi University and an MBA at Koç University. Following a decade-long career in finance, he bade farewell to corporate life. His first novel Kar Kuyusu was published in 2005. This debut was followed by a series of novels: Küçük Yalanlar Kitabı (2007), 47 Numaralı Kamara (2009), 04:00 (2012) and Körburun (2016). With Körburun, Hükümenoğlu received the 2017 Atilla Ilhan Novel Award. He contributes to periodicals in addition to his fiction, and he teaches methods of story writing at Mimar Sinan University.